New Braunfels Dumpster Rental
Do you need a roll-off dumpster rental in New Braunfels, TX? Contact our service center and speak with one of our friendly consultants right now. We'll walk you through your options and give you the most competitive quote on dumpster rental in New Braunfels, TX.
(210) 372-8666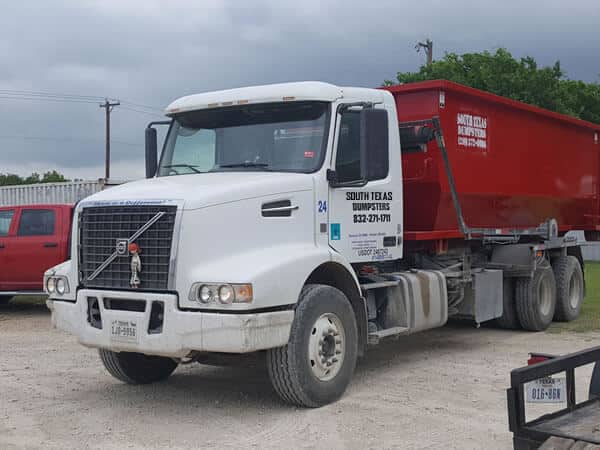 Dumpster Rental in New Braunfels, TX
Do you need a roll-off dumpster rental in New Braunfels, TX? Contact our service center and speak with one of our friendly consultants right now. We'll walk you through your options and give you the most competitive quote on dumpster rental in New Braunfels, TX.
Our team can advise you on the right dumpster model for your needs, with rental periods to meet your project requirements. Our dumpster service in New Braunfels, TX, brings you professional advice and speedy service. 
We service all locations across New Braunfels on both sides of the Guadalupe River. Whether you need a dumpster in Landa Park or off W Klein road in the south, we'll get the right dumpster to your location, with the delivery, collection, and disposal included in your estimate.
Braunfels, TX Dumpster Rental Pricing
We offer you dumpster rentals in Braunfels, TX, at reasonable rates for commercial and residential projects. When calculating the costs for the rental, we account for the distance to your site from our depot and the size of the dumpster you take. 
The type of materials you throw away and the length of the rental term also contribute to costs. We offer you free advice when selecting your dumpster if you're unsure of the right size to suit your project requirements. 
Pickup & Delivery
Our estimate includes dropping off the dumpster at your location, collection, and transportation to the dumping site. 
We'll also pay for the overage if the dumpster is overweight, and we'll bill you for the additional cost with transparent itemized invoicing. 
The Real Dumpster Cost
If you don't know which size dumpster to order, consult with our service team. We'll make recommendations for the right dumpster based on our experience with clients. We'll also help you with permits for the dumpster if required by your local municipality.
If the bylaw enforcement teams find your dumpster overflowing, they fine you for the transgression. That's why it's critical to consult with us if you're not sure what dumpster size you need for the project. 
We'll also give you a list of the materials you can throw in the dumpster. If you toss the unapproved waste in the dumpster and the landfill finds it, you'll get a fine, and we'll have to pass along those costs. 
Dumpster Sizes & Detailed Information
Our dumpsters come in a range of four sizes for any residential or commercial project. Contact our service agents, and we'll work with you to select the right size dumpster for your application. Our experience ensures you match the right dumpster to your project requirements. 
12 cubic yard dumpster (10 x 8 x 4 ft) – Home remodels.
20 cubic yard dumpster (22 x 8 x 4 ft) – Estate and garage cleanouts and large cleaning tasks.
30 cubic yard dumpster (22 x 8 x 6 ft) – Home demo and construction projects and light commercial use.
40 cubic yard dumpster (22 x 8 x 8 ft) – The biggest commercial stripouts, demo, and construction projects.
Perfect Uses for a Roll-off Dumpster Rental
Moving Cleanouts
Tenants and homeowners looking to move out of their property can retrieve their security deposit or fetch a higher price for their home with a clean property. 
A 12-cubic yard dumpster is the best choice for tossing out broken furniture and electronics and clearing garden waste.
Remodeling Debris
If you're renovating your home, guest house, or retail store, a 20 to 30-cubic yard dumpster is ideal for tossing out drywall, flooring, pipes, and plastics. 
Demolition Debris
Commercial demo and construction jobs require the use of a 30 to 40-cubic yard dumpster for tossing out the rubble, concrete waste, and rebar. 
Cardboard and Metal
Toss out recyclable waste in your dumpster, and we'll send it to the local recycling plant for processing. 
Large and Estate Clean-Up Projects
Clean up office parks and estates with a 20-cubic yard dumpster for throwing out green waste and household debris. 
Brush and Concrete
Professional landscaping projects can toss out green waste like soil, plants, and trees in a dumpster, and we'll send it to the local green landfill. 
Need a Dumpster Rental in Braunfels, TX?
Contact us for dumpster rental in Braunfels, TX. Our consultants have decades of experience in matching the right dumpster with our client's needs. 
We'll give you the most competitive quote in the industry, with the best service in the business. Our consultants are waiting to take your call right now. 
Speak with a Waste Professional Today
Ready to rent a dumpster, construction dumpster, or roll-off container in San Antonio, TX, or surrounding areas in any dumpster size? Call us now at (210) 372-8666 to rent a dumpster or fill out the form below.
Why our Customers Love South Texas Dumpsters
South Texas Dumpsters is available 24/7 to serve you. Feel free to call us for any dumpster rental related inquiries.
We offer low cost but reliable dumpster rentals, roll-off container rental and construction dumpsters for rent.
We have a large number of junk dumpsters for rent to be delivered or picked up. Call us now to rent a dumpster in San Antonio, TX.
South Texas Dumpsters is a family owned dumpster company located in San Antonio, TX serving all surrounding areas.
Dumpster Rental Locations