Alice Dumpster Rental
We'll deliver and collect your dumpster to your site, anywhere in the city. We operate from Commerce road in the north to the Alice Airport in the South and all locations in-between.
(210) 372-8666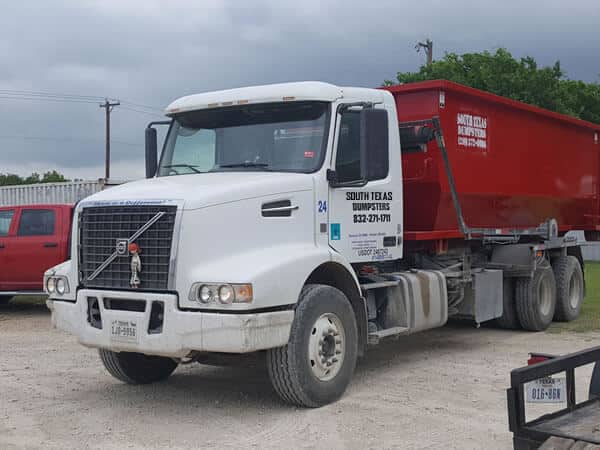 Dumpster Rental in Location in Alice, TX
Homeowners and contractors can contact us for roll-off dumpsters in Alice, TX.  
We'll deliver and collect your dumpster to your site, anywhere in the city. We operate from Commerce road in the north to the Alice Airport in the South and all locations in-between.
Avoid fines from bylaw violations and rent a roll-off dumpster to throw out your waste. We bring you a range of dumpster sizes and affordable rates. Contact us, and we'll discuss your needs and the right dumpster for your project.
Alice, TX Dumpster Rental Pricing
Several factors determine the price of your dumpster rental. The distance of your location from our depot, dumpster size, and the rental term all dictate the costs involved. Contact us, and we'll get you a free quote for your project based on your location and needs anywhere in Alice, TX.
Pickup & Delivery
We'll drop off your dumpster and collect it at the end of your rental term. Our team disposes of your waste, offering you a comprehensive waste management facility.
We offer you advice on the right dumpster size for your project, the rental terms, and any permits required for use in your area.
The Real Dumpster Cost
Dumpsters carry all types of waste; contact us for a list of approved materials to toss in your dumpster. You need the right size dumpster for your project. 
If the local authorities see you discarding waste outside the dumpster, it could result in a heavy fine. We'll work with you to calculate the right dumpster model for your project.
Dumpster Sizes & Detailed Information
Call our offices and speak to our consultants about the right size dumpster for your project. We offer roll-off dumpsters in the following models, suitable for the following tasks.
12 cubic yard dumpster (10 x 8 x 4 ft) – Home renovation projects.
20 cubic yard dumpster (22 x 8 x 4 ft) – Garage cleanouts and bigger cleaning tasks.
30 cubic yard dumpster (22 x 8 x 6 ft) – Demolition, construction, and homebuilding.
40 cubic yard dumpster (22 x 8 x 8 ft) – Large demolitions, construction projects, and home building jobs.
Waste management is a key component of your construction, demolition, or renovation project. Choosing the right size dumpster is critical if you want to avoid adding costs to your project. We'll assist you with selecting the right roll-off dumpster model to suit your needs.
Perfect Uses for a Roll-off Dumpster Rental
Roll-off dumpsters are available for the following projects. Contact our service center, and we'll get your roll-off dumpster to your location right away.
Moving Cleanouts
If you're moving out of a home, you'll need to clear it for sale or new tenants. A small dumpster helps you toss out all your trash and unwanted items, preparing the property for its new owners or tenants.
Remodeling Debris
Renovations me rubble and building waste, and a roll-off dumpster offers you the best solution for clearing your site.
Demolition Debris
Demolitions sites filled with concrete and steel waste can benefit from a large dumpster to accommodate the debris. Choose a 30 or 40-foot dumpster to handle your requirements.
Cardboard and Metal
Toss your steel and cardboard waste in the dumpster, and we'll dispose of it for you with the relevant waste management authorities.
Large and Estate Clean-Up Projects
Clean up your estate and get things in order with a roll-off dumpster for landscaping waste and renovation debris.
Brush and Concrete
The smaller 20 to 30-cubic yard dumpsters are ideal for removing landscaping waste from your property. We cater to all landscaping contractors and homeowners across Alice, TX.
Need a Dumpster Rental in Alice, TX?
Contact us for dumpster rental in Alice, TX. We service all areas across the city, with affordable rates and no hidden costs in our rental contract. We'll deliver and collect the dumpster and dispose of your waste, giving you the best waste management solution in Alice, TX.
Contact our service center and speak with one of our service consultants for assistance. We'll run you through your dumpster options and get you a competitive quote. You can rely on us for affordable dumpster rental in Alice, TX, and the best service in the industry.
Speak with a Waste Professional Today
Ready to rent a dumpster, construction dumpster, or roll-off container in San Antonio, TX, or surrounding areas in any dumpster size? Call us now at (210) 372-8666 to rent a dumpster or fill out the form below.
Why our Customers Love South Texas Dumpsters
South Texas Dumpsters is available 24/7 to serve you. Feel free to call us for any dumpster rental related inquiries.
We offer low cost but reliable dumpster rentals, roll-off container rental and construction dumpsters for rent.
We have a large number of junk dumpsters for rent to be delivered or picked up. Call us now to rent a dumpster in San Antonio, TX.
South Texas Dumpsters is a family owned dumpster company located in San Antonio, TX serving all surrounding areas.
Dumpster Rental Locations