Kenedy Dumpster Rental
Book your dumpster rental in Kenedy, TX, with us; you get a comprehensive service that's available anywhere in the city. We operate in all locations, from the Kenedy Regional Airport in the north to the end of Escondido street in the south.
(210) 372-8666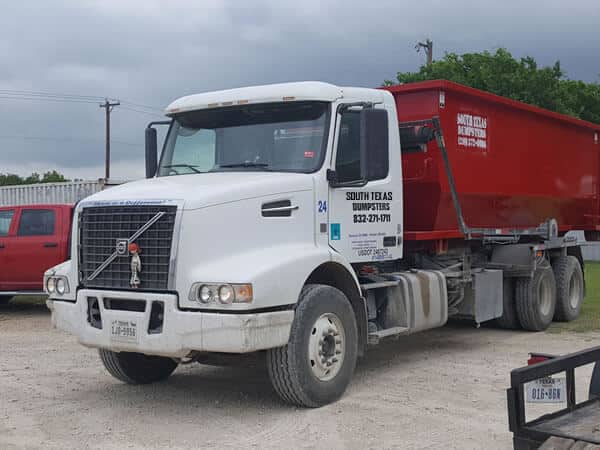 Dumpster Rental in Kenedy, TX
Book your dumpster rental in Kenedy, TX, with us; you get a comprehensive service that's available anywhere in the city. We operate in all locations, from the Kenedy Regional Airport in the north to the end of Escondido street in the south. 
Our rates are competitive, giving you the best rental prices for any residential or commercial waste management requirements for your project. Our team is available 24/7 to answer your questions and book your dumpster rental in Kenedy, TX. 
We'll drop your dumpster off, collect it, and dispose of the waste with an entirely transparent, itemized billing service. Contact our team right now and book your dumpster rental in Kenedy, TX.
Kenedy, TX Dumpster Rental Pricing
We offer residential and commercial sites the most competitive dumpster rentals in Kenedy, TX. You can rely on us for transparent billing and itemized costs in your invoice. We look at the distance to your location from our depot and the size of the dumpster when calculating your quote. 
We also include the type of materials you throw in the dumpster and the rental period, with discounts for longer rentals. Contact our team, and we'll get you the right dumpster solution to suit your project budget. 
Pickup & Delivery
Our quote includes delivering your dumpster to the site, collecting it, and disposing of the waste with the landfill. 
Our team will get you the right size dumpster to your location, and we collect on time, keeping your project on schedule. 
The Real Dumpster Cost
It's important that you choose the right dumpster size for your project. If you're unsure of the correct model for your site, our agents can help you with picking out a suitable dumpster. It's important to choose the right size dumpster. If the bylaw enforcement finds your dumpster overflowing, they will issue a fine that derails your project budget.
We also give you a list of the materials you can throw in the dumpster. Dumping unapproved materials with the local dumpsite means they'll issue you a fine, adding to your project costs. Our team will ensure you understand the rems and conditions when signing your service level agreement with us.
Dumpster Sizes & Detailed Information
Choose from four different dumpster sizes to match your project requirements. Our experienced team will help you choose the right model for your application. We have years of experience in assisting our clients with selecting the right size dumpster for their project requirements.
12 cubic yard dumpster (10 x 8 x 4 ft) – Residential renovations.
20 cubic yard dumpster (22 x 8 x 4 ft) – Home and garage and home cleanouts.
30 cubic yard dumpster (22 x 8 x 6 ft) – Commercial demolition and construction projects.
40 cubic yard dumpster (22 x 8 x 8 ft) – Large construction and demo projects.
Perfect Uses for a Roll-off Dumpster Rental
Moving Cleanouts
Recover your security deposit and clear out that garage with a 12-cubic yard dumpster for all your old broken electronics and furniture. 
Remodeling Debris
A 20 to 30-cubic yard dumpster is a good choice for throwing out your building debris like rubble and drywall. We'll work with you to help you choose the right solution. 
Demolition Debris
Commercial construction and demo jobs will require a 30 to 40-cubic yard dumpster for steel and concrete waste.
Cardboard and Metal
Does your business toss out cardboard or steel waste? Send it to our recycling partners by filling up your dumpster.
Large and Estate Clean-Up Projects
Larger estates and office parks require a 20 to 30-cubic yard dumpster for cleanups. We can match the right size dumpster with your requirements. 
Brush and Concrete
Clear organic waste from your site with a roll-off dumpster, and we'll dispose of it at the local green landfill. 
Need a Dumpster Rental in Kenedy, TX?
Contact our service desk and speak with one of our agents about your project requirements. We'll match your needs with the right dumpster size and give you a competitive quote. 
We're the experts in dumpster rental in Kenedy, TX, with a full range of dumpsters to suit any residential or commercial application. Let us show you why we're the best dumpster rental provider in Texas. Contact us for a custom quote for your project today; service agents are standing by to take your call.
Speak with a Waste Professional Today
Ready to rent a dumpster, construction dumpster, or roll-off container in San Antonio, TX, or surrounding areas in any dumpster size? Call us now at (210) 372-8666 to rent a dumpster or fill out the form below.
Why our Customers Love South Texas Dumpsters
South Texas Dumpsters is available 24/7 to serve you. Feel free to call us for any dumpster rental related inquiries.
We offer low cost but reliable dumpster rentals, roll-off container rental and construction dumpsters for rent.
We have a large number of junk dumpsters for rent to be delivered or picked up. Call us now to rent a dumpster in San Antonio, TX.
South Texas Dumpsters is a family owned dumpster company located in San Antonio, TX serving all surrounding areas.
Dumpster Rental Locations