Big Wells Dumpster Rental
We bring you roll-off dumpsters directly to your location, anywhere in Big Wells, TX. We cover all city areas, from Grand avenue in the North to Tennessee avenue in the south. Contact us for a roll-off dumpster estimate for your project right now.
(210) 372-8666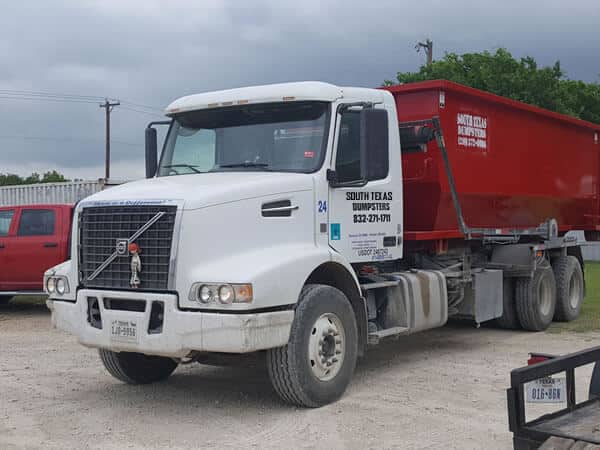 Dumpster Rental in Location Big Wells, TX
Whether you're a homeowner planning a renovation or a contractor conducting demolitions, you need a roll-off dumpster. A dumpster gives you a means of disposing of the waste from any site, avoiding penalties and fines from law enforcement.
We bring you roll-off dumpsters directly to your location, anywhere in Big Wells, TX. We cover all city areas, from Grand avenue in the North to Tennessee avenue in the south. Contact us for a roll-off dumpster estimate for your project right now.
Big Wells, TX Dumpster Rental Pricing
We take into account your distance from our depot and dumpster size when calculating your rental costs. We also look at the type of waste you dispose of in the dumpster and the rental term. You get discounts for longer rental periods.
There are a few factors that determine the rental cost of your dumpster.
The dumpster's size, your distance from our depot, and the length of your rental term come into account when preparing your estimate. Contact our service center, and we'll put together an affordable quote for your project.
Pickup & Delivery
When you order your dumpster, we include the delivery and collection of the unit to your property or building site, anywhere in Big Wells, TX.
We'll dispose of the waste and take care of any overage, billing you for additional costs with a transparent invoice.
The Real Dumpster Cost
If the local bylaw enforcement agents see you dumping waste outside of your dumpster, you're in trouble, and you could face a fine of thousands of dollars. You need the right size model for the job. Call our service center, and our agents will match the right model to your requirements.
Please make sure you confirm with our team about the materials you want to toss in the dumpster. We'll give you a list of approved waste, helping you avoid fines for dumping incorrect materials.
Dumpster Sizes & Detailed Information
We bring you a range of four roll-off dumpsters in four different sizes to suit your project requirements. Here are the sizes and the most common applications for the dumpsters.
12 cubic yard dumpster (10 x 8 x 4 ft) – Home remodels and renovations.
20 cubic yard dumpster (22 x 8 x 4 ft) – Garage and home cleanouts and big cleaning tasks.
30 cubic yard dumpster (22 x 8 x 6 ft) – Home building projects, demo, and construction.
40 cubic yard dumpster (22 x 8 x 8 ft) – Big construction and demo projects and homebuilding.
The size of the dumpster needs to match your project requirements. We'll walk you through selecting the right model for your waste management. Contact our service center and speak with our knowledgeable agents; we'll get you the right solution delivered to your doorstep.
Perfect Uses for a Roll-off Dumpster Rental
Some of the common uses for roll-off dumpsters include the following waste management projects.
Moving Cleanouts
Moving out of your home is a big task. If you've been in your residence for years, you probably have tons of junk you want to throw away with the move. A 12 to 20-cubic yard dumpster is ideal for disposing of all types of household waste and debris.
Remodeling Debris
Remodeling jobs involve the disposal of a range of building materials, from drywall to copper piping and plastics. Your dumpster can take care of it, allowing for easy removal of waste from the site.
Demolition Debris
If you're a project manager at a building site, a 30 to 40-cubic yard roll-off dumpster gives you all the space you need for dumping anything from rebar to old concrete slabs and rubble.
Cardboard and Metal
Packaging waste and steelworks offcuts are suitable for throwing in your roll-off dumpster. We'll dispose of it with the local recycling center for you.
Large and Estate Clean-Up Projects
Large estates, office blocks, and big site clean-ups suit 30 to 40-cubic yard dumpsters. Clean the site and dispose of the waste without incurring fines.
Brush and Concrete
Professional landscaping projects can benefit from a roll-off dumpster for your garden waste. We dispose of everything at the local green landfill.
Need a Dumpster Rental in Big Wells, TX?
Contact our service center; we have agents standing by 24/7 to take your call. We offer you free advice on choosing the right dumpster for your project, and we offer you the best prices on your dumpster rental in Big Wells, TX.
Speak with a Waste Professional Today
Ready to rent a dumpster, construction dumpster, or roll-off container in San Antonio, TX, or surrounding areas in any dumpster size? Call us now at (210) 372-8666 to rent a dumpster or fill out the form below.
Why our Customers Love South Texas Dumpsters
South Texas Dumpsters is available 24/7 to serve you. Feel free to call us for any dumpster rental related inquiries.
We offer low cost but reliable dumpster rentals, roll-off container rental and construction dumpsters for rent.
We have a large number of junk dumpsters for rent to be delivered or picked up. Call us now to rent a dumpster in San Antonio, TX.
South Texas Dumpsters is a family owned dumpster company located in San Antonio, TX serving all surrounding areas.
Dumpster Rental Locations