Austin Dumpster Rental
Reach out to the team at South Texas Dumpsters to book your dumpster service. We bring you a comprehensive roll-off dumpster service in Gonzales, TX, with the most competitive rates. Contact our service center for advice on the right dumpster for your project, and we'll confirm your booking.
(512) 316-0292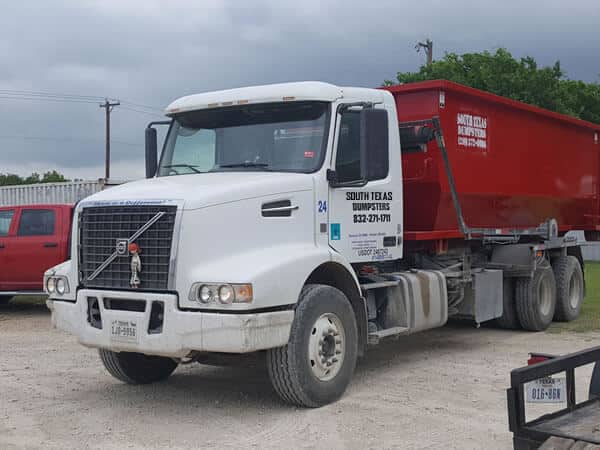 Dumpster Rental in Austin Texas
Reach out to the team at South Texas Dumpsters to book your dumpster service. We provide you with a fully-inclusive dumpster rental in Austin, Texas, with competitive rates and timeous service. We have the right size dumpster to suit your project.
Call us today! (512) 316-0292
Contact us anywhere in Central Austin and surrounding areas. We cover everywhere in the city, from Bear Creek and Bluff Springs in the south to Anderson Mill in the North. Contact us for fast, professional service.
When you hire our services, we drop the dumpster off, collect it and dispose of the waste. Our transparent billing system ensures you know what you're paying for. Contact us right now and book your dumpster rental in Austin, Texas.
Our Address: 670 Lower Elgin Rd, Elgin, TX 78621
Austin Texas Dumpster Rental Pricing
We offer dumpster rentals for commercial and residential sites anywhere in Austin. We provide you with affordable rates and itemized billing on your invoice. When calculating your quote, we'll look at the distance from our depot to your location to determine costs.
We'll also evaluate the class of materials you dispose of in the dumpster and inform you of the costs involved. The rental period also plays a part in costing your quote. We offer discounted rates for longer rental periods.
Pickup & Delivery
Our team delivers the dumpster to your site and collects it when it's full at the end of your rental period. The delivery and collection are worked into the cost and vary. It depends on the distance we have to travel to your site.
The further away you are from our depot, the more you'll pay in rental due to cost components like fuel and truck maintenance. We must also dispose of your waste at the correct landfill or recycling center. The distance we have to travel to these destinations is included in your quote.
The Real Dumpster Cost
When you consider the value a dumpster service brings to your project, the costs are minimal. While a dumpster might be an expense, it's necessary, and you can't live without it. However, how you use the dumpster also comes into play during your rental period.
You'll need to ensure you hire the right size dumpster to match your project. Overfilling the dumpster could result in penalties at the landfill and from bylaw enforcement when they discover your dumpster contaminating the street or sidewalk.
Our team will ensure you understand the terms and conditions of your dumpster rental. We'll also advise you on the right permits and licenses required to place a dumpster in a residential neighborhood. Our team works with you to get the best dumpster rental service possible.
Dumpster Sizes & Detailed Information
South Texas Dumpsters offers four different dumpster sizes to suit any project. Our knowledgeable team assists you with choosing the right dumpster for your project.
We have decades of experience tailoring dumpster solutions to our client's needs. Contact our service team, and we'll walk you through your options for dumpster rental in Austin, Texas.
When you hire a dumpster, you can choose from the following sizes.
12 cubic yard dumpster (10 x 8 x 4 ft)
This dumpster is ideal for home remodeling projects and smaller clearing jobs.
20 cubic yard dumpster (22 x 8 x 4 ft)
This size dumpster is ideal for cleaning out your garage or conducting smaller remodeling and renovation projects at home.
30 cubic yard dumpster (22 x 8 x 6 ft) – demo, construction, home building
These dumpsters have enough capacity to handle large home construction projects and remodels. They're also suitable for demolition projects and medium-to-large construction sites.
40 cubic yard dumpster (22 x 8 x 8 ft)
These models suit large demolition tasks at the biggest construction sites. They're also suitable for contractors building estates and other large projects.
Perfect Uses for a Roll-off Dumpster Rental
Moving Cleanouts
Get all the old stuff you don't need out of the garage and the shed in the yard. This dumpster will help you clear the house for new buyers or tenants and help you recover your security deposit or receive a better asking price for the property.
Remodeling Debris
Remove the rubble and debris from your building or remodeling site. It's the ideal solution for disposing of large building waste, like drywall.
Demolition Debris
The steel and concrete waste produced by large demo projects require a large dumpster. A 40-cubic yard dumpster has the capacity you need for these large jobs.
Cardboard and Metal
We'll help you improve your carbon footprint with dumpsters for cardboard and metal waste. Our team will collect it from your premises and dispose of it with our recycling partners.
Large and Estate Clean-Up Projects
If you're cleaning up or revamping a large estate, consider a 30-cubic foot dumpster for your project. Clear building and garden waste easily.
Brush and Concrete
Our dumpsters are ideal for large landscaping projects. Clear your garden waste and let us dispose of it with the local green landfill.
Need a Dumpster Rental in Austin, Texas?
If you need a dumpster rental in Austin, Texas, speak to the professionals at South Texas Dumpsters. We have a range of dumpster sizes to suit your needs, with the delivery, collection, and disposal included with your service.
Contact our team for a free quote. We're ready to add value to your next remodel, demo or construction project.

Speak with a Waste Professional Today
Ready to rent a dumpster, construction dumpster, or roll-off container in San Antonio, TX, or surrounding areas in any dumpster size? Call us now at (210) 372-8666 to rent a dumpster or fill out the form below.
Why our Customers Love South Texas Dumpsters
South Texas Dumpsters is available 24/7 to serve you. Feel free to call us for any dumpster rental related inquiries.
We offer low cost but reliable dumpster rentals, roll-off container rental and construction dumpsters for rent.
We have a large number of junk dumpsters for rent to be delivered or picked up. Call us now to rent a dumpster in San Antonio, TX.
South Texas Dumpsters is a family owned dumpster company located in San Antonio, TX serving all surrounding areas.
Dumpster Rental Locations