Carrizo Springs Dumpster Rental
If you're a contractor, landscaper, or just a homeowner doing renovations to your property, you need a waste management system for your project. We offer you the best roll-off dumpster service in Carrizo Springs, TX.
(210) 372-8666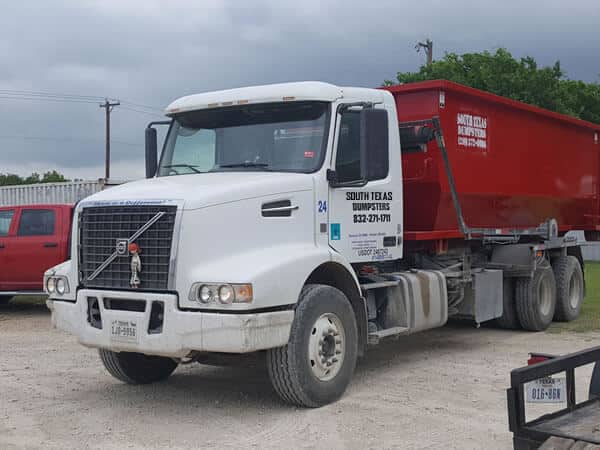 Dumpster Rental in Carrizo Springs, TX
If you're a contractor, landscaper, or just a homeowner doing renovations to your property, you need a waste management system for your project. We offer you the best roll-off dumpster service in Carrizo Springs, TX.
We carry a full range of dumpster sizes to suit any project requirements, and we're available across the city of Carrizo Springs, TX. Whether you need a dumpster in the south at your property off South 5th Street or a building site in the north near Dixondale Farms, give us a call for professional service.
Carrizo Springs, TX Dumpster Rental Pricing
When calculating your quote, we take several factors into account concerning your dumpster rental requirements. We're the experts in dumpster rentals, offering you free advice on choosing the right dumpster for your project.
The primary factors involved in determining your rental costs are the distance of your site from our depot and the size of the dumpster required for your project. We'll also look at the rental term and the type of materials you'll throw in the dumpster.
We offer discounted rates for longer rental periods and a fully comprehensive service with all costs included in your quote. Contact our service center and speak with one of our friendly consultants about your project requirements.
Pickup & Delivery
Your rental contract with us includes the delivery and collection of the dumpster from your site. We also include the disposal of your materials with the relevant authorities.
If there is any overage to pay, we'll take care of it on-site and issue you with an itemized invoice and total transparency with additional costs.
The Real Dumpster Cost
It's critical to choose the right size dumpster for your project. If your dumpster is too small, you'll end up throwing the materials next to it. If bylaw enforcement comes across your overflowing dumpster, they'll issue you an expensive fine for the practice.
Our team can advise you on the right type of dumpster to suit your project, and we'll tell you what materials to avoid throwing in the dumpster. We can also assist with getting you any permits required for leaving the dumpster outside of your property.
Dumpster Sizes & Detailed Information
We have a range of dumpster sizes to suit any residential or commercial project. Choose from one of the following four sizes, and we'll take care of the rest.
12 cubic yard dumpster (10 x 8 x 4 ft) – Home remodels and renovations.
20 cubic yard dumpster (22 x 8 x 4 ft) – Garage and home cleanouts and big cleaning tasks.
30 cubic yard dumpster (22 x 8 x 6 ft) – Home building projects, demo, and construction.
40 cubic yard dumpster (22 x 8 x 8 ft) – Big construction and demo projects and homebuilding.
Perfect Uses for a Roll-off Dumpster Rental
Moving Cleanouts
If you are moving house or selling, you probably have tons of stuff you need to throw away. A 12-cubic yard dumpster is an ideal choice for these smaller clearing tasks. A 20-cubic yard dumpster is all you need to clean the house if you're clearing an estate.
Remodeling Debris
If you're renovating your home or business premises, use a 20-cubic yard dumpster for tossing out building materials like drywall, plastics, steel, and concrete debris.
Demolition Debris
Demolition sites require larger dumpsters in the 30 to 40-cubic yard range. Use it to dump steel, rebar, cement, and concrete waste.
Cardboard and Metal
Steelworks businesses and packaging companies need a large dumpster for the waste materials. Choose a 30 or 40 cubic yard dumpster, and we'll dispose of your waste with the relevant recycling center.
Large and Estate Clean-Up Projects
Clearing a large estate or an office block requires 30 to 40-cubic yard dumpsters for tossing out damaged building materials, unwanted items, and garden waste.
Brush and Concrete
If you're a professional landscaper, a smaller dumpster is ideal for clearing out any environmental waste from the garden. We'll dispose of it with your local green landfill center.
Need a Dumpster Rental in Carrizo Springs, TX?
Our team is ready to assist you with dumpster rental in Carrizo Springs, TX. We offer you the most competitive rates in the industry and a service you can rely on to deliver beyond your expectations. Reach out and make your booking today.
Speak with a Waste Professional Today
Ready to rent a dumpster, construction dumpster, or roll-off container in San Antonio, TX, or surrounding areas in any dumpster size? Call us now at (210) 372-8666 to rent a dumpster or fill out the form below.
Why our Customers Love South Texas Dumpsters
South Texas Dumpsters is available 24/7 to serve you. Feel free to call us for any dumpster rental related inquiries.
We offer low cost but reliable dumpster rentals, roll-off container rental and construction dumpsters for rent.
We have a large number of junk dumpsters for rent to be delivered or picked up. Call us now to rent a dumpster in San Antonio, TX.
South Texas Dumpsters is a family owned dumpster company located in San Antonio, TX serving all surrounding areas.
Dumpster Rental Locations