Beeville Dumpster Rental
We bring you affordable dumpster rental in Beeville, TX. Contact us, and we'll get you a complimentary estimate for your dumpster. Our services are available across Beeville, TX, from the BEE County Expo center in the south to Coastal Bend College in the North and everywhere in-between.
(210) 372-8666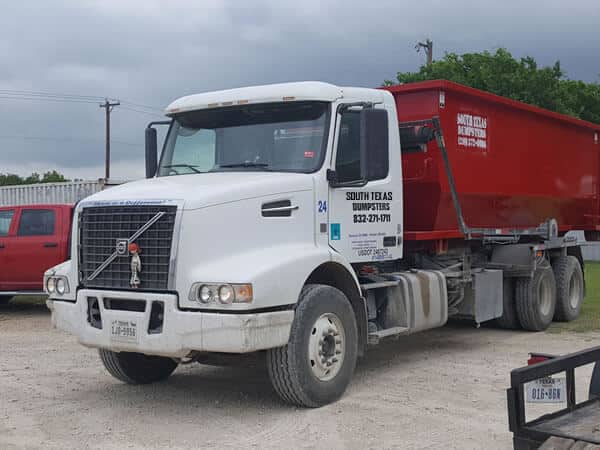 Dumpster Rental in Location Beeville, TX
Are you planning a refurbishment to your property? Maybe you're a contractor at a commercial building site? What are you doing for your waste management? Roll-off dumpsters offer you the solution for clearing your site and avoiding local bylaw fines.
We bring you affordable dumpster rental in Beeville, TX. Contact us, and we'll get you a complimentary estimate for your dumpster. Our services are available across Beeville, TX, from the BEE County Expo center in the south to Coastal Bend College in the North and everywhere in-between.
Beeville, TX Dumpster Rental Pricing
The cost of your dumpster rental depends on several factors. We consider your distance from our depot and the length of the rental contract when calculating costs.
We also include the size of the dumpster and the waste materials you're throwing into the dumpster. Contact us for a list of approved materials to toss in your dumpster, and we'll walk you through the costs involved with the rental.
Pickup & Delivery
We offer a full-house roll-off dumpster rental in Beeville, TX. We'll deliver the dumpster to your property, set it up, and collect it at the end of the rental. Our team disposes of the waste and takes care of any overage for you. Contact us for more information on dumpster rental in Beeville, TX.
The Real Dumpster Cost
The real cost of your dumpster rental depends on the type of project. You need the right size model for the task at hand, or you run the risk of overflowing the dumpster.
If your local bylaw enforcement sees you dumping outside of the dumpster, they'll issue you with a big fine, derailing your project costs. Contact our service team and discuss your project requirements; we'll match your job to the right dumpster size.
Dumpster Sizes & Detailed Information
Roll-off dumpsters come in four sizes to suit your project requirements. Contact us for assistance with selecting the right size dumpster for your needs.
12 cubic yard dumpster (10 x 8 x 4 ft) – Home remodels.
20 cubic yard dumpster (22 x 8 x 4 ft) – Garage stripouts and bigger cleaning tasks.
30 cubic yard dumpster (22 x 8 x 6 ft) – Demo, construction, and home building projects.
40 cubic yard dumpster (22 x 8 x 8 ft) – Larger demo, construction, and home building projects.
Matching the right dumpster size to your project is critical when calculating your costs. We have plenty of experience in providing our clients with advice for selecting the right model for the job. Call our service center, and our friendly team will help you choose the right model for your project requirements.
Perfect Uses for a Roll-off Dumpster Rental
Roll-off dumpsters are suitable for removing all types of waste from your property. Some of the frequent requests we get from clients involve the following uses.
Moving Cleanouts
Moving out of a home involves cleaning up the property for the new tenant or homeowner. A roll-off dumpster lets you clear out your garage and yard of unwanted items and rubble before occupation. 20-cubic yard dumpsters are ideal for these projects.
Remodeling Debris
remodeling your home or a retail store means you'll be removing debris and building waste. A 20-cubic yard dumpster is the best choice for disposing of drywall, flooring, and rubble.
Demolition Debris
Demolition sites can benefit from a 30 to 40-cubic foot roll-off dumpster for clearing away heavy rubble, rebar, and other building waste like bricks and plastics.
Cardboard and Metal
A 12-cubic yard dumpster is ideal for disposing of large volumes of cardboard waste and metal. If you run a packaging business or a steelworks, choose the right model to suit your requirements.
Large and Estate Clean-Up Projects
Roll-off dumpsters are ideal for cleaning up large estates and dilapidated buildings. A 20 to 30-cubic yard dumpster gives you all the space you need to clear your property.
Brush and Concrete
If you're a landscaper clearing a site, a roll-off dumpster is great for disposing of garden waste. We'll dump it for you at the closest green landfill.
Need a Dumpster Rental in Beeville, TX?
If you need a roll-off dumpster in Beeville, TX, give us a call. Our team will work with you to understand your project requirements and choose the right dumpster for your project.
We operate a dedicated customer service line, and we can assist you with acquiring any necessary permits for your project. Contact us for the best rates on dumpster rentals in Beeville, TX, and no hidden charges in your rental agreement.
Speak with a Waste Professional Today
Ready to rent a dumpster, construction dumpster, or roll-off container in San Antonio, TX, or surrounding areas in any dumpster size? Call us now at (210) 372-8666 to rent a dumpster or fill out the form below.
Why our Customers Love South Texas Dumpsters
South Texas Dumpsters is available 24/7 to serve you. Feel free to call us for any dumpster rental related inquiries.
We offer low cost but reliable dumpster rentals, roll-off container rental and construction dumpsters for rent.
We have a large number of junk dumpsters for rent to be delivered or picked up. Call us now to rent a dumpster in San Antonio, TX.
South Texas Dumpsters is a family owned dumpster company located in San Antonio, TX serving all surrounding areas.
Dumpster Rental Locations