Dilley Dumpster Rental
Are you looking for a dumpster rental in Dilley, TX? Contact us right now for assistance. We cater to all locations across Dilley on both sides of the I-35. Whether you need a dumpster near Dilley Truckstop in the north or Dilley Feed and Grain in the South, we're here to help.
(210) 372-8666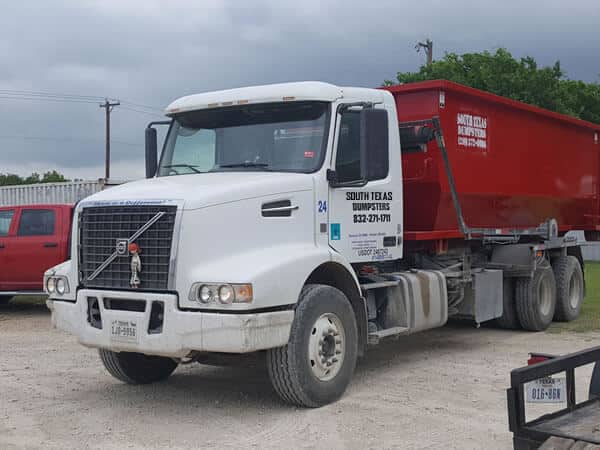 Dumpster Rental in Dilley, TX
Are you looking for a dumpster rental in Dilley, TX? Contact us right now for assistance. We cater to all locations across Dilley on both sides of the I-35. Whether you need a dumpster near Dilley Truckstop in the north or Dilley Feed and Grain in the South, we're here to help.
We offer you a full-house dumpster service in Dilley, TX. We'll deliver the dumpster, collect it, and dispose of your waste. You can rely on us for professional service anywhere in the city. Contact our service center, and our agents will take your booking and organize a competitive quote.
Dilley, TX Dumpster Rental Pricing
Some of the factors determining the cost of your dumpster rental in Dilley, TX, include the distance from our depot to your site and the size of the dumpster required for your project.
We also look at what you'll be throwing in the dumpster and the length of your rental period. You get discounts for longer rental terms and all servicing of your dumpster included in the quote.
We're experts in dumpster rental in Dilley, TX, and our team can advise you on the right model and rental period for your project. We have plenty of experience in advising our clients on the right solution to suit their needs, just give us a call, and we'll take care of it for you.
Pickup & Delivery
Our service includes delivery of the dumpster to your site and collection when it's full. We'll issue you with a list of approved materials for throwing in your dumpster.
Our billing system is transparent and includes itemized costs for overage if you go over your weight limit for the dumpster. We promise you an ethical and honest billing process.
The Real Dumpster Cost
The cost of your dumpster includes the collection and disposal of materials. However, you need to choose the right size dumpster from your project. If it's too small and you start leaving materials outside of the dumpster, local bylaw enforcement could fine you for the digression.
Our team is available to advise you on the right size dumpster for your projects, and we'll give you a list of approved materials for throwing in your dumpster. We have years of experience in assisting our clients with selecting the right waste management system to suit their project requirements.
Dumpster Sizes & Detailed Information
You have the option of choosing between four dumpster sizes for your project requirements. Call our service center to discuss your dumpster requirements.
12 cubic yard dumpster (10 x 8 x 4 ft) – Home remodeling and renovation.
20 cubic yard dumpster (22 x 8 x 4 ft) – Home and garage cleanouts and large cleaning tasks.
30 cubic yard dumpster (22 x 8 x 6 ft) – Residential and light commercial demo and construction.
40 cubic yard dumpster (22 x 8 x 8 ft) – Large commercial demo and construction projects.
Perfect Uses for a Roll-off Dumpster Rental
Moving Cleanouts
Are you moving out of your house to a new property? Reclaim your security deposit by clearing out your garage and home of unwanted and damaged items. A 12 to 20-cubic yard dumpster is the best choice for preparing your home for its new owners or tenants.
Remodeling Debris
A commercial or home renovation means you need somewhere to toss the junk like rubble, steel, concrete, drywall, and piping. A 20 to 30-cubic yard dumpster lets you clear the site, keeping your project on track.
Demolition Debris
Large commercial demolition and construction sites need a 30 to 40-cubic yard roll-off dumpster for tossing out materials like rubble, concrete waste, and rebar.
Cardboard and Metal
If your business throws out a lot of recyclable waste like steel and cardboard, toss it in the dumpster. We'll dispose of it at the recycling center.
Large and Estate Clean-Up Projects
Larger estates and office blocks will need a 30 to 40-cubic yard dumpster to handle the cleanup. Toss out unwanted items, damaged furniture, and garden waste.
Brush and Concrete
Landscaping projects require you to toss out green waste like lawn, plants, trees, and soil. A 20 to 30-cubic yard dumpster is ideal, and we'll dispose of it at the green landfill.
Need a Dumpster Rental in Dilley, TX?
Reach out to our service team to book your dumpster in Dilley, TX. We'll help you choose the right size dumpster to match your requirements. Our service agents are standing by to take your call.
Speak with a Waste Professional Today
Ready to rent a dumpster, construction dumpster, or roll-off container in San Antonio, TX, or surrounding areas in any dumpster size? Call us now at (210) 372-8666 to rent a dumpster or fill out the form below.
Why our Customers Love South Texas Dumpsters
South Texas Dumpsters is available 24/7 to serve you. Feel free to call us for any dumpster rental related inquiries.
We offer low cost but reliable dumpster rentals, roll-off container rental and construction dumpsters for rent.
We have a large number of junk dumpsters for rent to be delivered or picked up. Call us now to rent a dumpster in San Antonio, TX.
South Texas Dumpsters is a family owned dumpster company located in San Antonio, TX serving all surrounding areas.
Dumpster Rental Locations