Cotulla Dumpster Rental
We bring you a comprehensive dumpster rental service in Cotulla, TX. Whether you need a dumpster for a home renovation project near Martinez Park or a retail strip-out off North Leonard Avenue, we're ready to assist. Contact our service center, and one of our friendly assistants will take your booking.
(210) 372-8666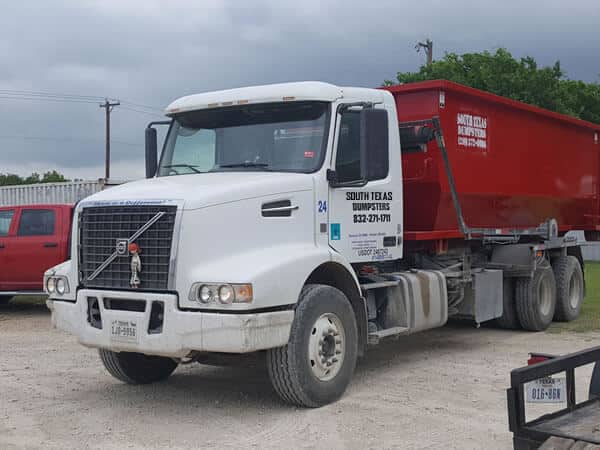 Dumpster Rental in Cotulla, TX
We bring you a comprehensive dumpster rental service in Cotulla, TX. Whether you need a dumpster for a home renovation project near Martinez Park or a retail strip-out off North Leonard Avenue, we're ready to assist. Contact our service center, and one of our friendly assistants will take your booking.
Our roll-off dumpster solutions are suitable for any waste management requirement, with a full house service, including delivery, collection, and disposal. Reach out to our team, and we'll prepare a quote to suit your waste management requirements.
Cotulla Dumpster Rental Pricing
If you're wondering how we calculate costs, we consider the distance of your site from our depot and the size of the dumpster you need for your project. We'll also consider the rental period and the type of waste you're throwing in the dumpster.
We offer competitive pricing, with discounts for longer rental terms. If you need assistance choosing the right size dumpster to suit your waste management requirements, give us a call. We offer you free, expert advice on the right model to suit your project.
We're the experts in roll-off dumpster rental in Cotulla, TX, and we have agents standing by to take your call. Our service center is available 24/7 for your waste management needs.
Pickup & Delivery
Your rental includes the delivery of the dumpster to the site and its collection. We also take care of the disposal, and we'll bill you for any overage using an itemized billing system with transparent costs.
We service all areas in the city, and we have extensive experience in helping our clients choose the right dumpster size for their projects. Call us for professional service and the best advice in the industry.
The Real Dumpster Cost
Our team helps you choose the right size dumpster to suit your requirements. If you don't know what dumpster you need and you order the wrong size, you could end up throwing away waste outside the dumpster.
The local bylaw officers will fine you for the practice, so speak to our team about the right waste management solution for your site. We'll give you a list of approved materials for throwing in your dumpster, and we'll arrange a servicing schedule to meet your project requirements.
Dumpster Sizes & Detailed Information
Our dumpsters are available in four sizes to suit any commercial or residential waste management requirements. Contact our service team for assistance with selecting the right model to suit your needs.
12 cubic yard dumpster (10 x 8 x 4 ft) – Home remodels.
20 cubic yard dumpster (22 x 8 x 4 ft) – Estate and garage cleanouts and large cleaning tasks.
30 cubic yard dumpster (22 x 8 x 6 ft) – Home demo and construction projects and light commercial use.
40 cubic yard dumpster (22 x 8 x 8 ft) – The biggest commercial stripouts, demo, and construction projects.
Perfect Uses for a Roll-off Dumpster Rental
Moving Cleanouts
Are you moving? Hire a 12-cubic dumpster to get rid of broken furniture, damaged tiles, and old carpets before the new owners take occupation.
Remodeling Debris
Your commercial stripout or home renovation means you'll need to dispose of concrete, rebar, tiles, piping, plastics, and more. All of these materials are suitable for your dumpster. Clear your site and keep it looking great.
Demolition Debris
Project managers can hire a 30 to 40-cubic yard roll-off dumpster for their site. Use it to toss out debris like concrete waste, rebar, steel, plastics, copper pipe, and more.
Cardboard and Metal
If you own a packing company or a steelworks, hire a dumpster for your recycling needs. We'll dispose of the waste with the relevant recycling authority in your area.
Large and Estate Clean-Up Projects
Cleaning up office parks, residential estates, and big properties requires the use of a 20 to 30-cubic yard dumpster. Toss out garden waste and damaged goods piling up on site.
Brush and Concrete
A dumpster is the ideal waste disposal unit for large landscaping projects. Toss out garden waste, and we'll dump it at the local green landfill.
Need a Dumpster Rental in Cotulla, TX?
We offer you the most competitive rates on dumpster hire in Cotulla, TX. Contact our service agents, and we'll arrange a custom waste management solution to suit your project requirements.
Speak with a Waste Professional Today
Ready to rent a dumpster, construction dumpster, or roll-off container in San Antonio, TX, or surrounding areas in any dumpster size? Call us now at (210) 372-8666 to rent a dumpster or fill out the form below.
Why our Customers Love South Texas Dumpsters
South Texas Dumpsters is available 24/7 to serve you. Feel free to call us for any dumpster rental related inquiries.
We offer low cost but reliable dumpster rentals, roll-off container rental and construction dumpsters for rent.
We have a large number of junk dumpsters for rent to be delivered or picked up. Call us now to rent a dumpster in San Antonio, TX.
South Texas Dumpsters is a family owned dumpster company located in San Antonio, TX serving all surrounding areas.
Dumpster Rental Locations