Boerne Dumpster Rental
Are you renovating your home or stripping out a retail space? Where are you going to throw the waste materials? Rent a roll-off dumpster and get your house or store in order. We offer you the most affordable dumpster rental in Boerne, TX, with a range of sizes to suit any project.
(210) 372-8666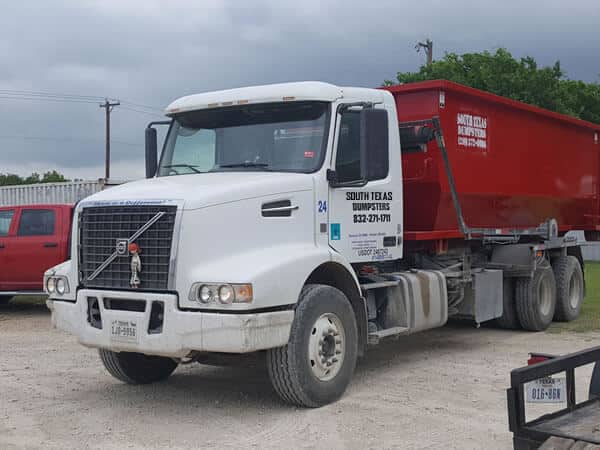 Dumpster Rental in Boerne, TX
Are you renovating your home or stripping out a retail space? Where are you going to throw the waste materials? Rent a roll-off dumpster and get your house or store in order. We offer you the most affordable dumpster rental in Boerne, TX, with a range of sizes to suit any project.
Boerne, TX Dumpster Rental Pricing
There are a few factors that determine the rental cost of your dumpster. The dumpster's size, your distance from our depot, and the length of your rental term come into account when preparing your estimate.
Pickup & Delivery
We offer you delivery and collection of your dumpster to your location, anywhere in Boerne, TX. We'll collect your dumpster at the end of your contract rental period and dispose of the waste with the relevant authorities. We'll also advise you on any permit requirements in your area.
The Real Dumpster Cost
If you're renting a dumpster for a construction project or a home renovation, you need the right dumpster for the job. Dumpsters carry all types of building waste, ensuring that you don't receive any fines for disposing of incorrect waste in your trash or local disposal facilities around the construction site.
Dumpster Sizes & Detailed Information
We offer you dumpsters in the following sizes to suit any project. Match the right model to your application and select one of the four following sizes.
12 cubic yard dumpster (10 x 8 x 4 ft) – Home remodeling projects
20 cubic yard dumpster (22 x 8 x 4 ft) – Garage cleanouts or big cleaning tasks
30 cubic yard dumpster (22 x 8 x 6 ft) – Demo, construction, home building
40 cubic yard dumpster (22 x 8 x 8 ft) – Large demo, construction, home building jobs
The dumpster's size matters to the success of your project. Typically, the larger dumpsters are more expensive to rent, but you can fill them with more waste. For example, you'll save money if you hire a 40 cubic yard dumpster over two 20 cubic yard dumpsters.
Similarly, you don't want to hire a 40 cubic dumpster for a home renovation project as you won't use all the space, wasting money. If you're unsure about the dumpster size required for your project, call us for some friendly expert advice on the right dumpster for your needs.
Perfect Uses for a Roll-off Dumpster Rental
There are plenty of uses for a roll-off dumpster. Here are some of the common projects we cater to with our dumpster range
Moving Cleanouts
If you're moving out of your home or apartment, you may need to clear out years of waste building up in the garage or spare room. The 20 cubic foot model is ideal for these smaller projects.
Remodeling Debris
If you're remodeling your home, use a roll-off dumpster to toss out your building waste. You can throw rubble, building materials, and soft waste in the dumpster.
Demolition Debris
The larger 30 and 40 cubic feet dumpsters are ideal for disposing of building site waste. From concrete to rebar, the dumpster can accommodate all your junk.
Cardboard and Metal
Dumpsters are suitable for disposing of cardboard and metal waste. We'll dispose of it for you with the relevant authorities.
Large and Estate Clean-Up Projects
The mid-range dumpster models are the best choice for cleaning up estates and larger residential properties.
Brush and Concrete
Toss your landscaping waste or concrete rubble into the dumpster and get it off your site. The smaller 20 and 30 cubic foot models are ideal for the largest landscaping clean-ups.
Need a Dumpster Rental in Boerne, TX?
We offer you roll-off dumpster rental anywhere in Boerne, TX. We service all areas around Corpus Christi and throughout the Lone Star State.
We have decades of experience in servicing all counties and cities across the state of Texas with custom roll-off dumpster solutions. We offer delivery and collection of your dumpster, with disposal of all materials.
Contact us for a list of approved and unapproved materials to toss in your dumpster.
You can rely on us for affordable rentals and professional service. If you have any questions about dumpster rental, or you want an estimate, give our service center a call right now. We have friendly agents standing by to take your inquiry.
Speak with a Waste Professional Today
Ready to rent a dumpster, construction dumpster, or roll-off container in San Antonio, TX, or surrounding areas in any dumpster size? Call us now at (210) 372-8666 to rent a dumpster or fill out the form below.
Why our Customers Love South Texas Dumpsters
South Texas Dumpsters is available 24/7 to serve you. Feel free to call us for any dumpster rental related inquiries.
We offer low cost but reliable dumpster rentals, roll-off container rental and construction dumpsters for rent.
We have a large number of junk dumpsters for rent to be delivered or picked up. Call us now to rent a dumpster in San Antonio, TX.
South Texas Dumpsters is a family owned dumpster company located in San Antonio, TX serving all surrounding areas.
Dumpster Rental Locations